Slide Man Slim
Slim Heilpern is a musician and retired software engineer. These days he plays slide chromatic harmonica, guitar, and pedal steel guitar for fun. It wasn't always this way...
First, there was the record player. As a toddler living in Peekskill, NY in the 1950's, one of the first skills I mastered was spinning discs on the family portable RCA unit. My parents had a large record collection including some 78's by the great harmonica player Larry Adler, whose dazzling technique and haunting sound left an indelible impression on my young self.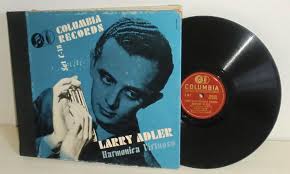 Small instrument, BIG sound!
×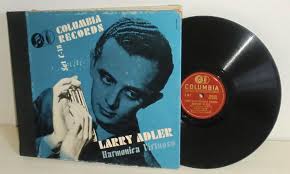 Small instrument, BIG sound!
When I turned five, my mom got me started on piano and my dad introduced me to the slide chromatic harmonica by showing me the basics and giving me one of his Hohner Super Chromonicas to practice on. My debut performance was at an elementary school recital playing both piano and harmonica (at the same time).
But those instruments took a back seat when I turned eight and began secretly playing my older brother's guitar, learning how to form the chords from a handy little guitar book I found one day in the piano bench.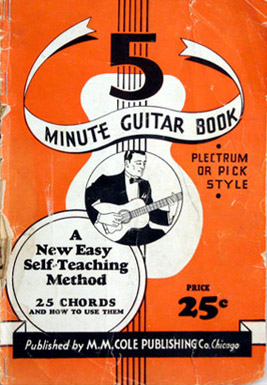 25 Chords!
×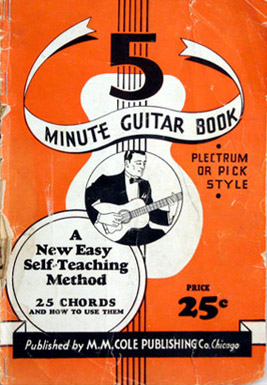 25 Chords!
My guitar obsession kicked into high gear when the baby sitter showed up one evening with an electric guitar and amp. It blew my young mind (apparently never to recover) and throughout the 1960s I spent countless hours copying guitar licks from my heroes Eric Clapton, George Harrison, T-Bone Walker, Django Reindhardt, Robbie Robertson, Danny Kalb, Jerry Garcia, Jimmie Hendrix, Albert King, Clarence White, and so many others.

By the end of the sixties, following the lead of some of my favorite players, I took notice of the great Nashville pickers and began studying the recordings of guitar legends Roy Nichols, Leon Rhodes, Don Rich, Hank Garland, Grady Martin, Merle Travis, Jimmy Bryant,Thumbs Carllisle, Chet Atkins, and on and on...

And the deeper I got into these players, the more I realized how much they were in turn influenced by jazz and swing music. There was so much to learn!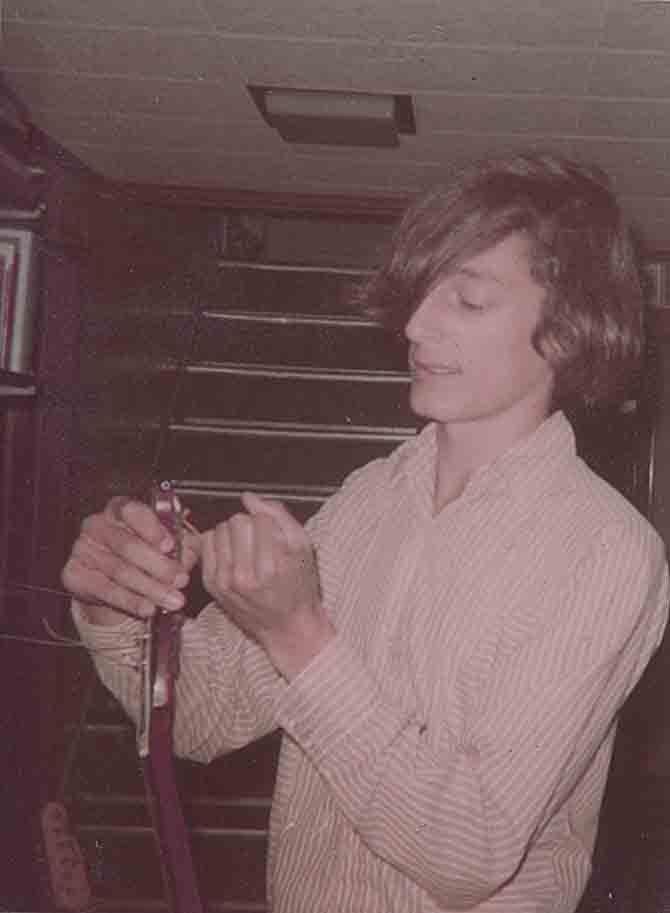 ×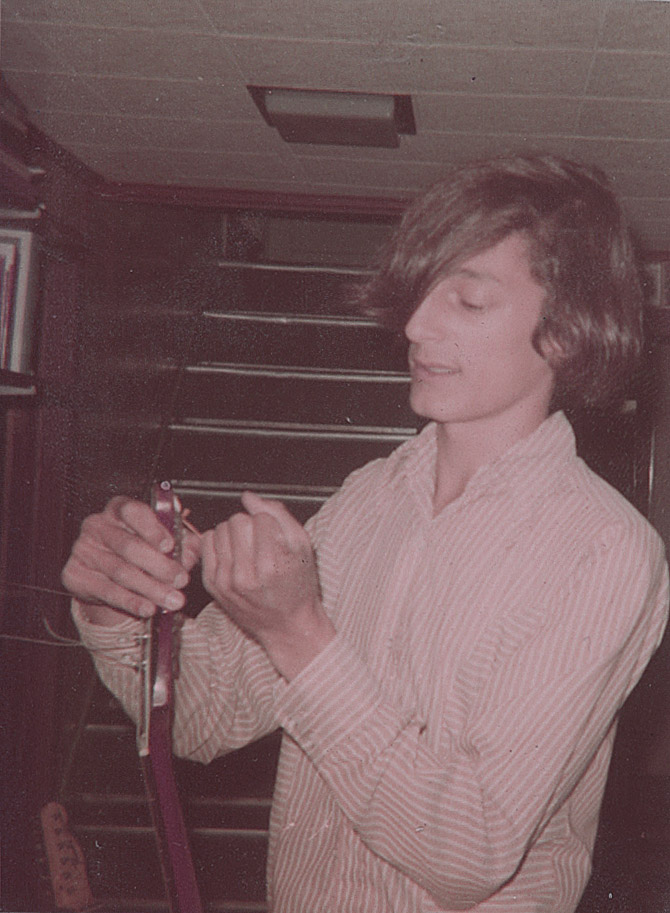 Stringing up his 1960's era Epiphone Olympic Double
In 1971, at age sixteen, I joined up with
The Oso Family
, a zany hippie Western Swing band operating out of Connecticut's Wesleyan University while I attended Berklee College of Music in Boston (lots of hitch-hiking the Mass. Turnpike involved). After a year of this, I dropped out so I could embark on an extended journey with the band, beginning with a move to Cripple Creek, Colorado, where we'd been hired to play nightly at a western bar & grill.
Once our gig (along with tourist season) ended in Cripple Creek, faced with the bleak winter months ahead, the band moved to sunny Oakland California where Penny Hanna joined us as our new bass player, beginning a musical partnership that continues to this day.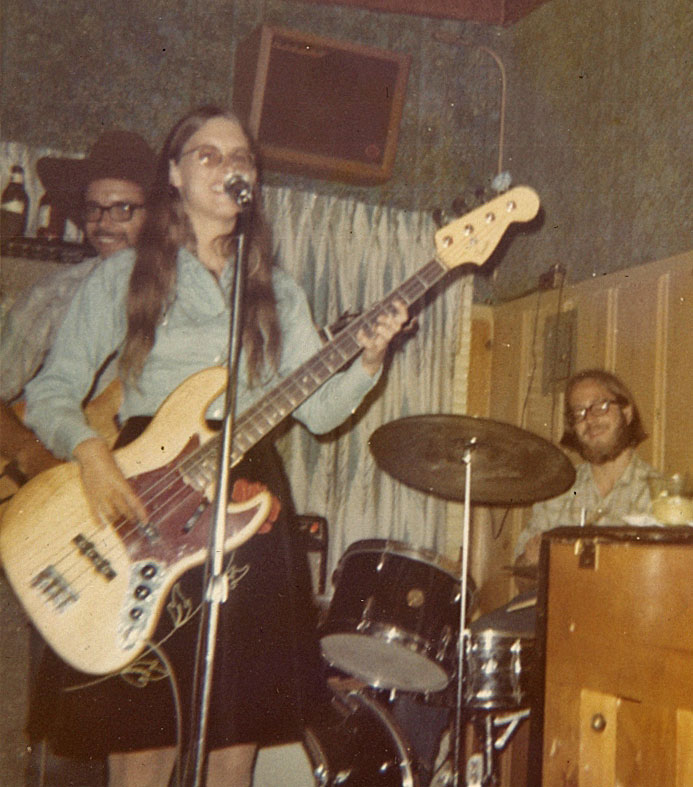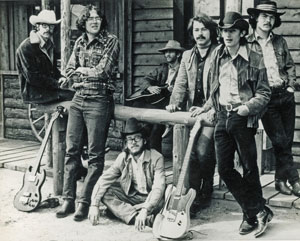 ×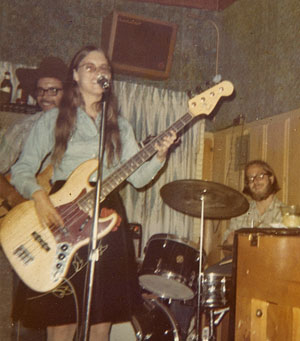 We were all smiles when Penny joined the band. Oso Family gig somewhere in northern California, 1973. L - R: Marty Obin, Penny Hanna, Carl Creeger
×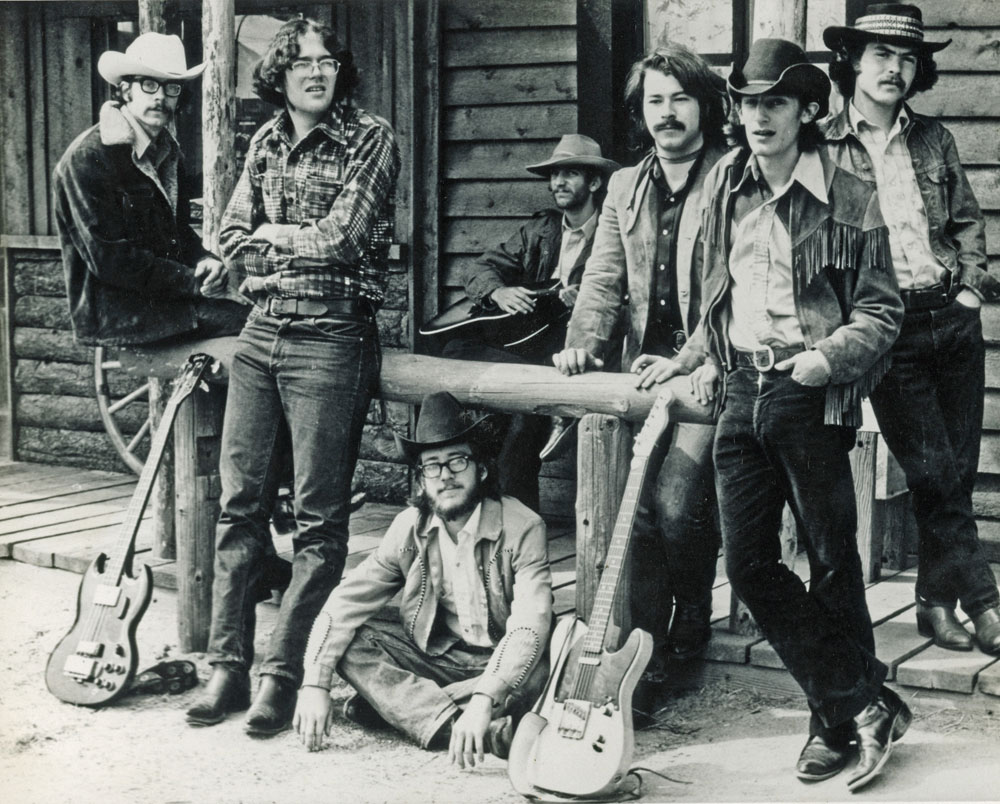 The Oso Family in Victor Colorado, summer of 1972. L - R: Marty Obin, Michael Gee, Carl Creeger, Billy Philladelphia, Whitney Eisenwinter, Slim Heilpern, Mark Paul
In 1974, following the departure of some key Oso Family members, we regrouped and moved to Austin, TX where the music scene was in full blossom, forming The Reynolds Sisters and the New Oso Band.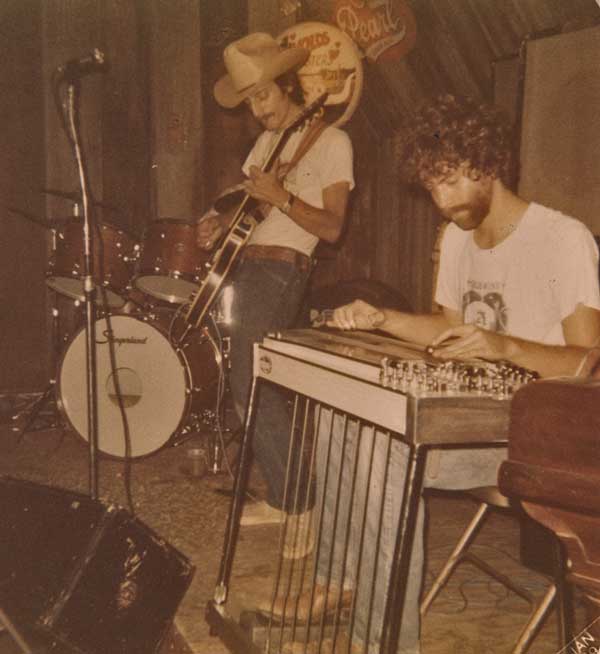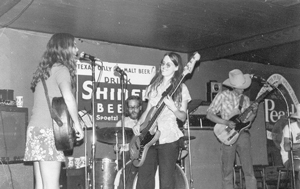 ×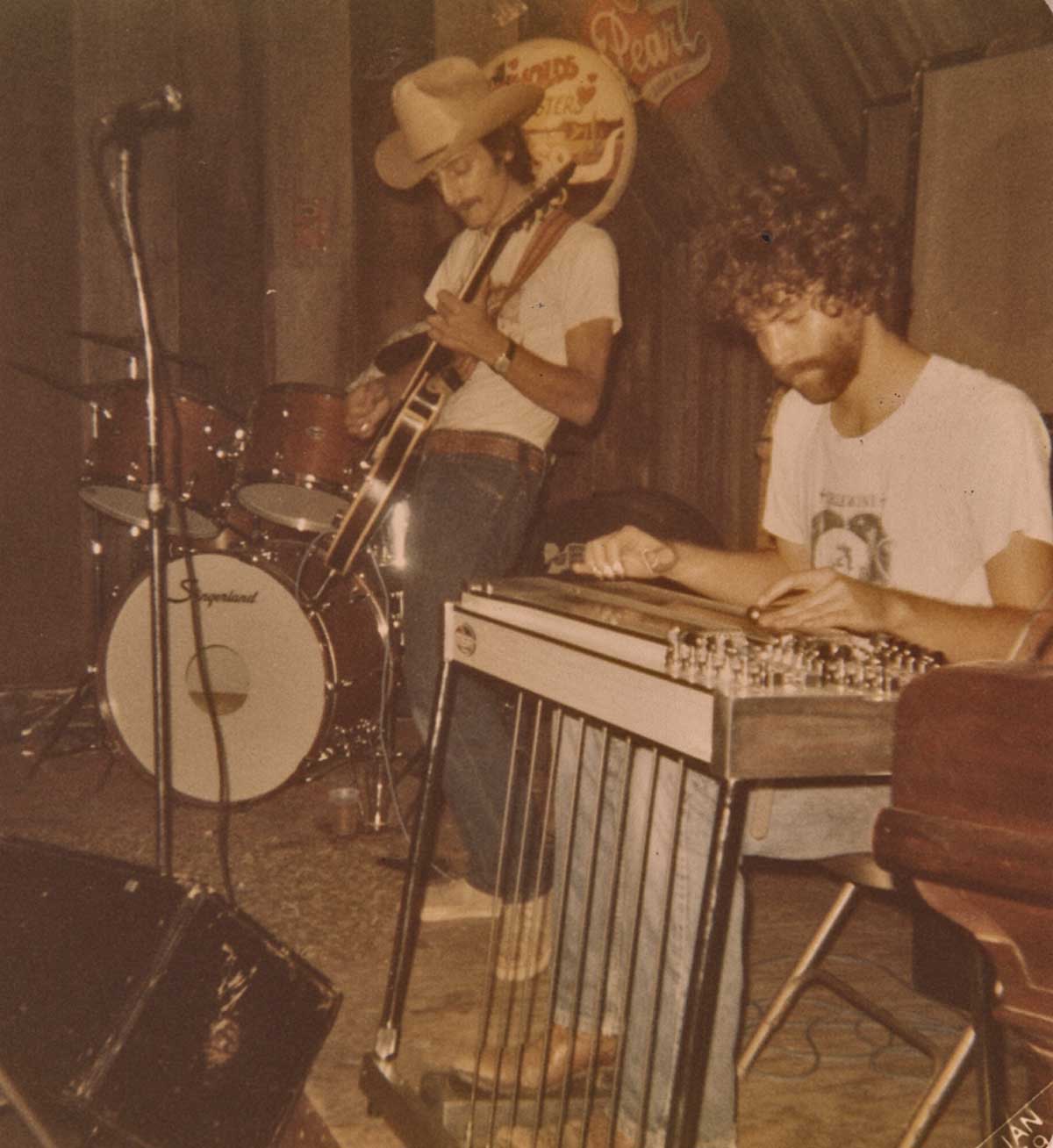 Reynolds Sisters & the New Oso Band record release party at Soap Creek Saloon, Austin, TX 1976. L-R: Slim Heilpern, John Ely
×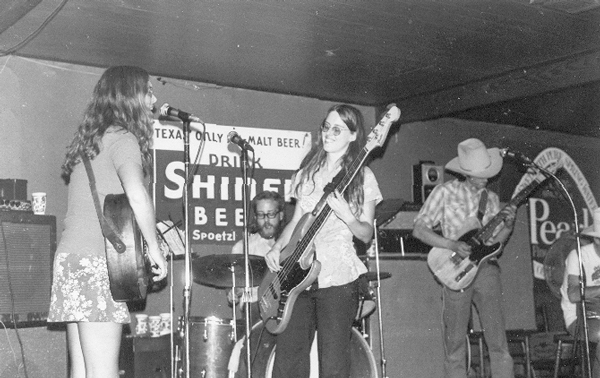 The Reynolds Sisters and the New Oso Band, circa 1975 at the Split Rail, Austin, TX. L-R: Maggie Reynolds, Carl Creeger, Penny Hanna, Slim Heilpern, Billy Marshal
We gradually expanded our musical palette as we embraced R&B, Jazz, and Reggae — thoroughly confusing our audience as we traveled throughout the Southwest. And as we found ourselves being drawn more and more to jazz and funk music, the focus of my guitar obsession began shifting towards the greats of the jazz guitar world, people like Wes Montgomery, Joe Pass, Barney Kessel, Herb Ellis, and George Benson became my new guitar idols.
When Deuce was born following the band's breakup in 1978, Penny and I found ourselves in New York trying to get work as a lounge duo. I had a vision of a vocals, guitar, bass and drums outfit with our lower extremities operating the drums. There were no realistic sounding drum machines at the time. My inspiration came from Stanley Banks (George Benson's bass player). He could knock out perfect 16th notes on a tambourine mounted to the floor by swiveling it with his foot (I've tried and can't do that at all).

Most of our drum set consisted of bass drum pedals with sticks instead of beaters playing the different parts of a typical trap set, with Penny's feet playing kick and snare and mine playing a variety of cymbals and percussion instruments. I'm proudest of the maracas attached to a double-spring bass drum pedal which could be positioned to comfortably play 8th or 16th notes or, via gravity effect, play a perfect shuffle.

This duo format turned out to be challenging, fun, and practical — we soon had all the lounge gigs we could handle.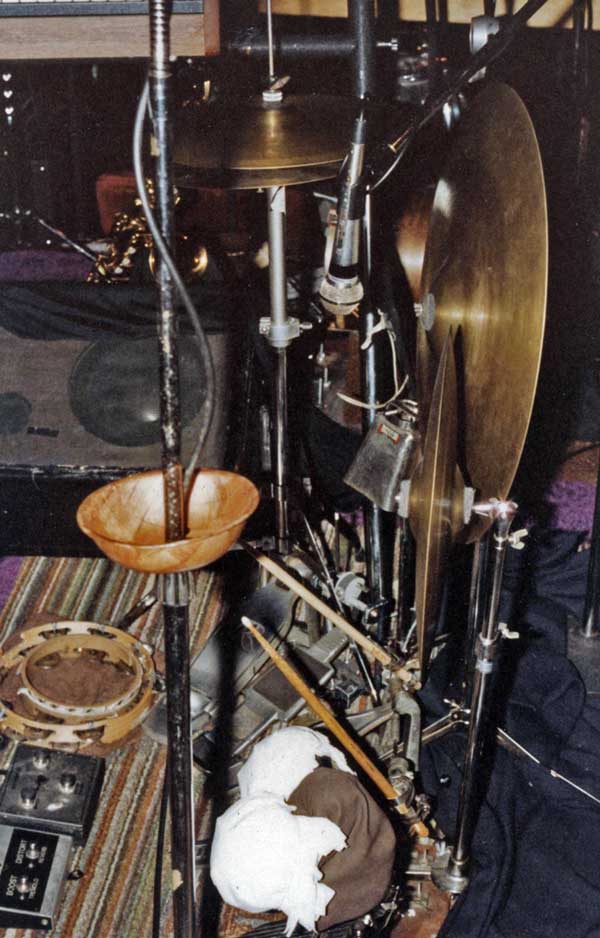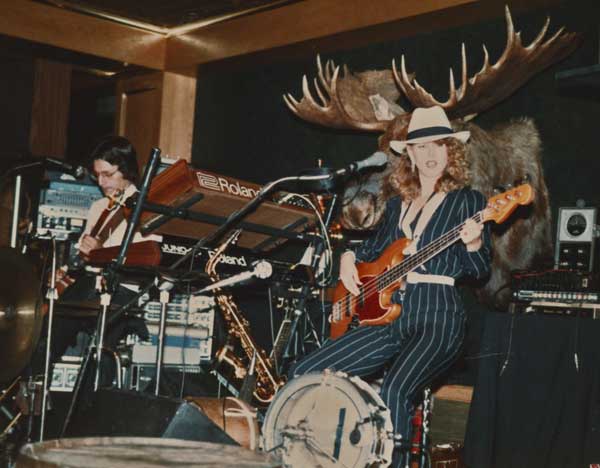 ×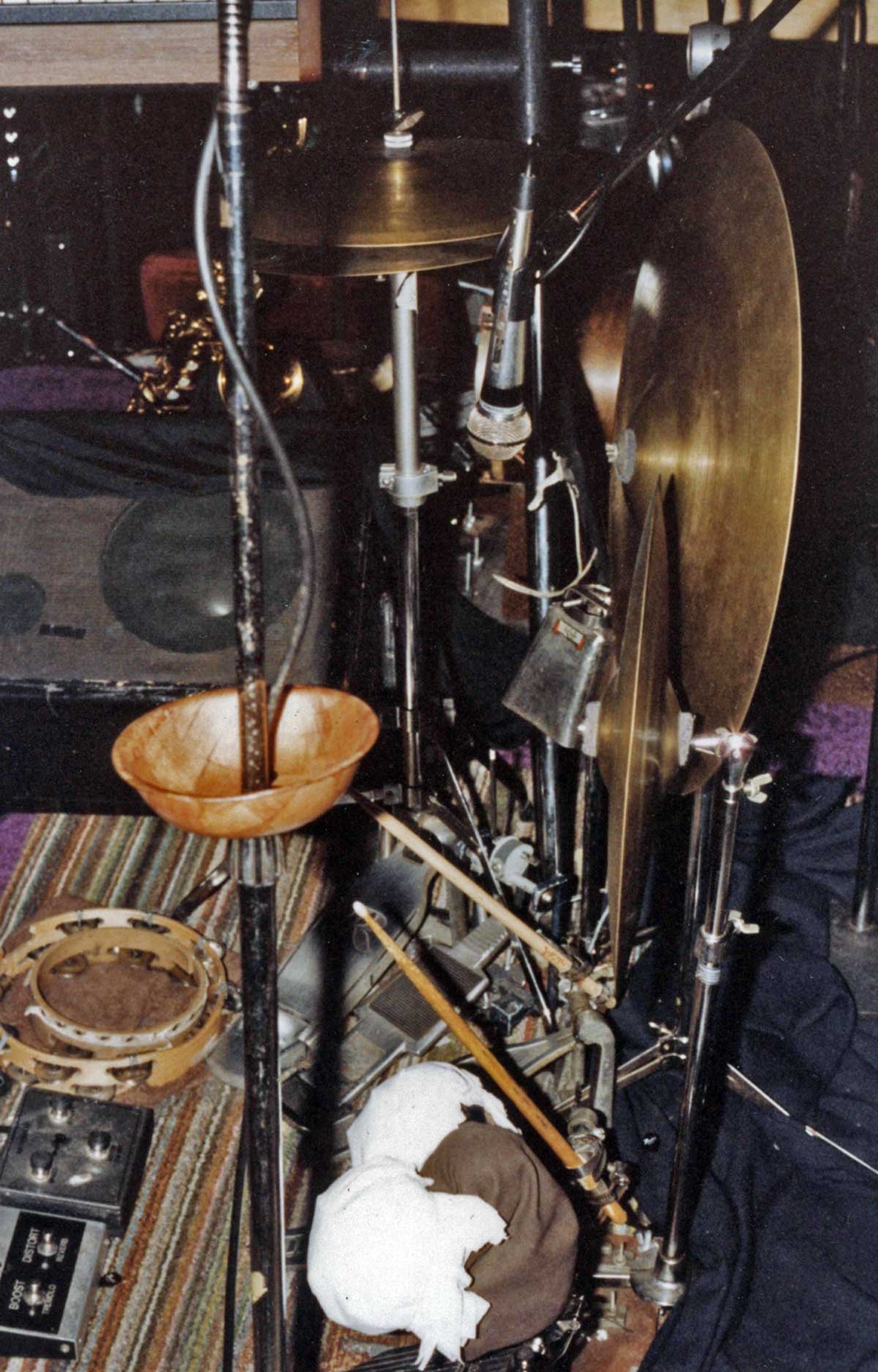 Slim's Foot Percussion Station
×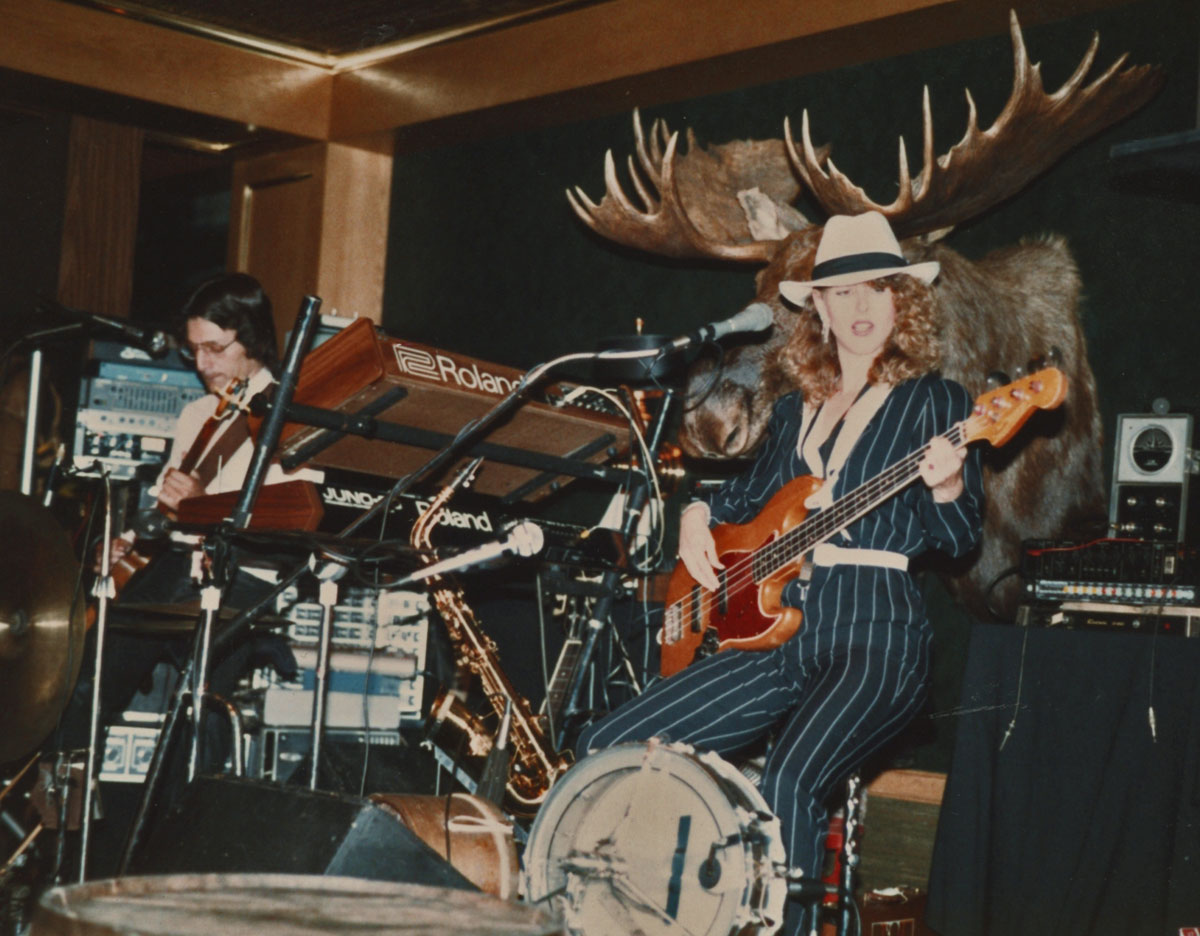 Deuce performing at the Sheraton in Tulsa, OK, 1985
Rediscovering the Harmonica
Another thing that happened with the birth of Deuce was my renewed interest in Slide Chromatic Harmonica. Ever since a friend introduced me to a Django Reinhardt compilation containing four tunes featuring Larry Adler, I had started reacquainting myself with the instrument I had abandoned for guitar. But what really pushed me back into it was hearing Stevie Wonder's harmonica work on Songs In The Key Of Life. Stevie had learned to make the harmonica sing like no one before him. Around the same time jazz master Toots Thielemans also caught my attention and I was hooked for life.

An Aside: For anyone confused by the term Slide Chromatic Harmonica (often just called Chromatic Harmonica), it's a bit larger than most of the harmonicas you see and hear (the diatonic instruments favored by most folk, country, blues, and rock players). It's larger because it contains many more reeds and a button hooked up to a slide mechanism which lets you choose between different sets of reeds, with each reed corresponding to a single note. In a nutshell, the extra reeds make it easier to play jazz or classical music and the one harmonica can more easily be played in all keys.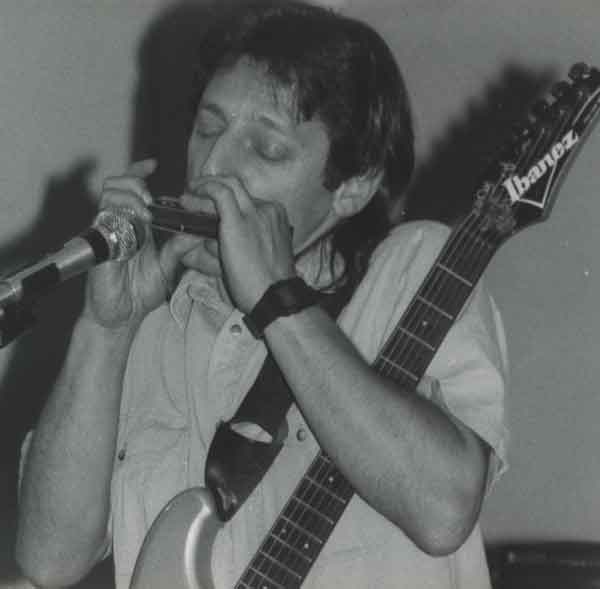 ×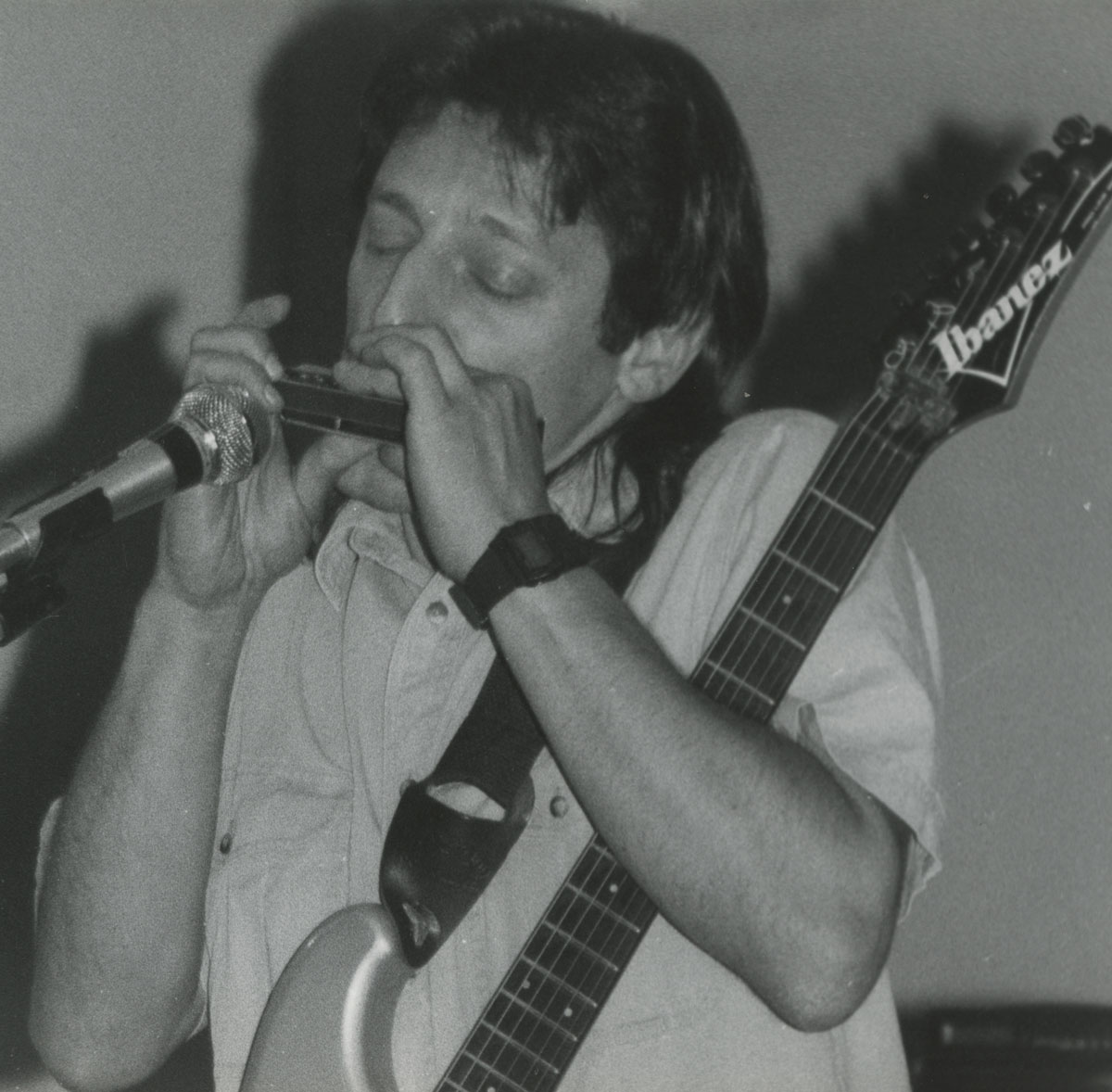 Deuce playing for a National Organization of Women benefit, Claremont CA, 1993
×

A Honer Super 64x Slide Chromatic Harmonica
In 1978 we acquired our first semi-pro four-track tape deck. A second four track followed within a year and that was enough to get us started with some serious multi-track recording. Between the two of us we played quite a few different instruments and multi-tracking allowed us to do some interesting stuff. We used the two four-tracks (synchronized) to record our first LP
The Ballad of Slim O. and Penny Bill
in 1980, and in short order we graduated to an actual eight-track deck.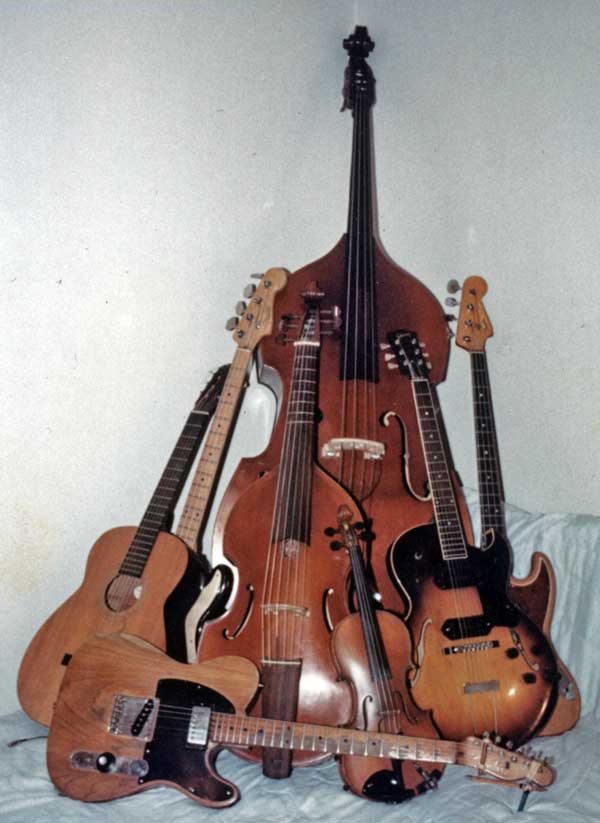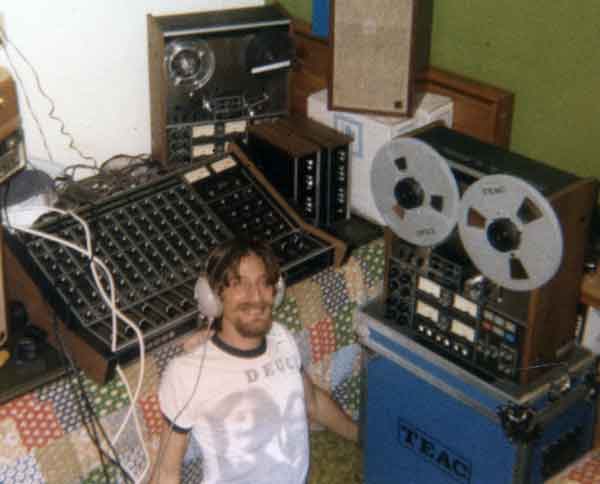 ×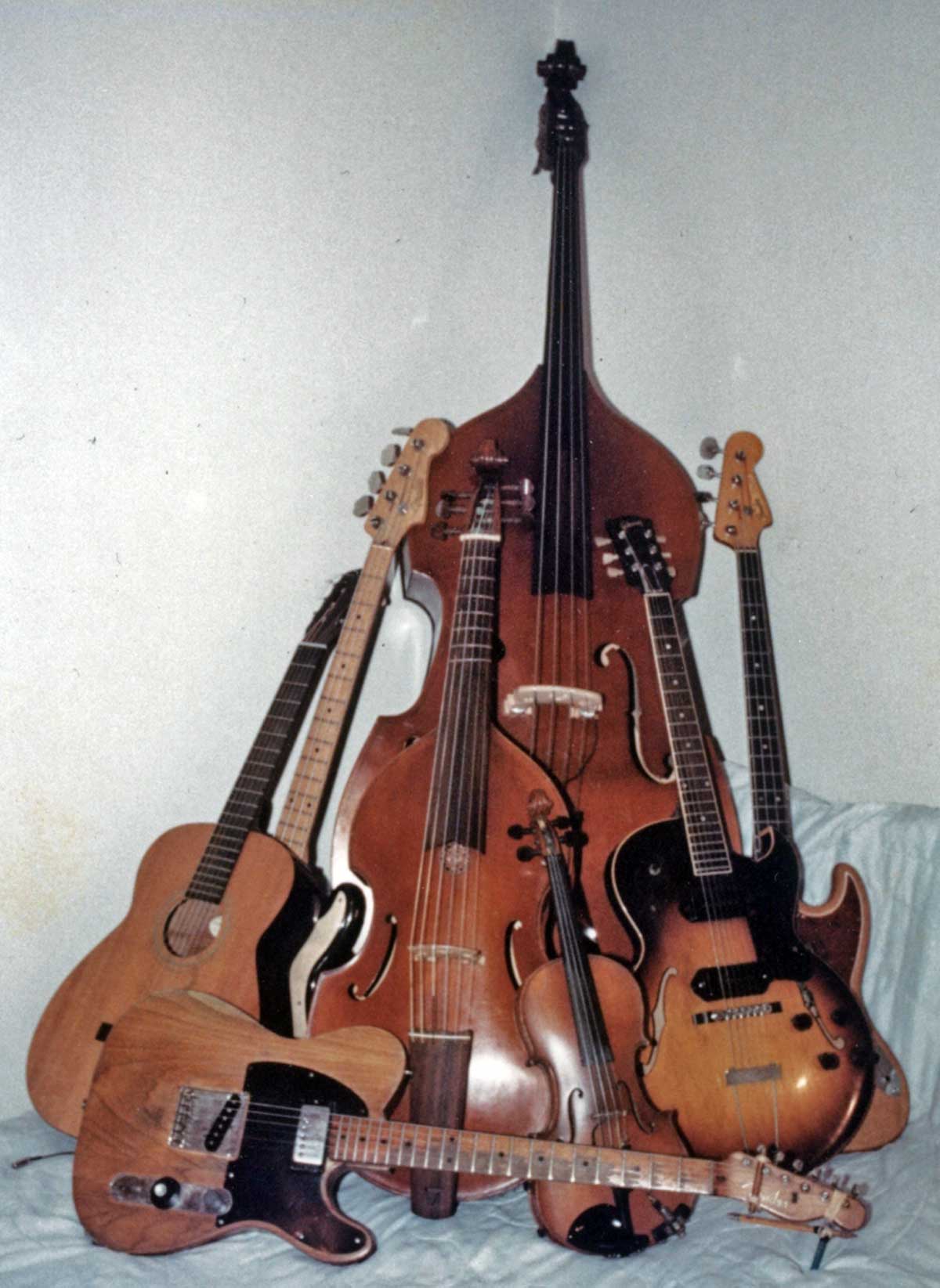 The string section for the Deuce LP "Ballad of Slim O. & Penny Bill", 1980, Franconia, NH
×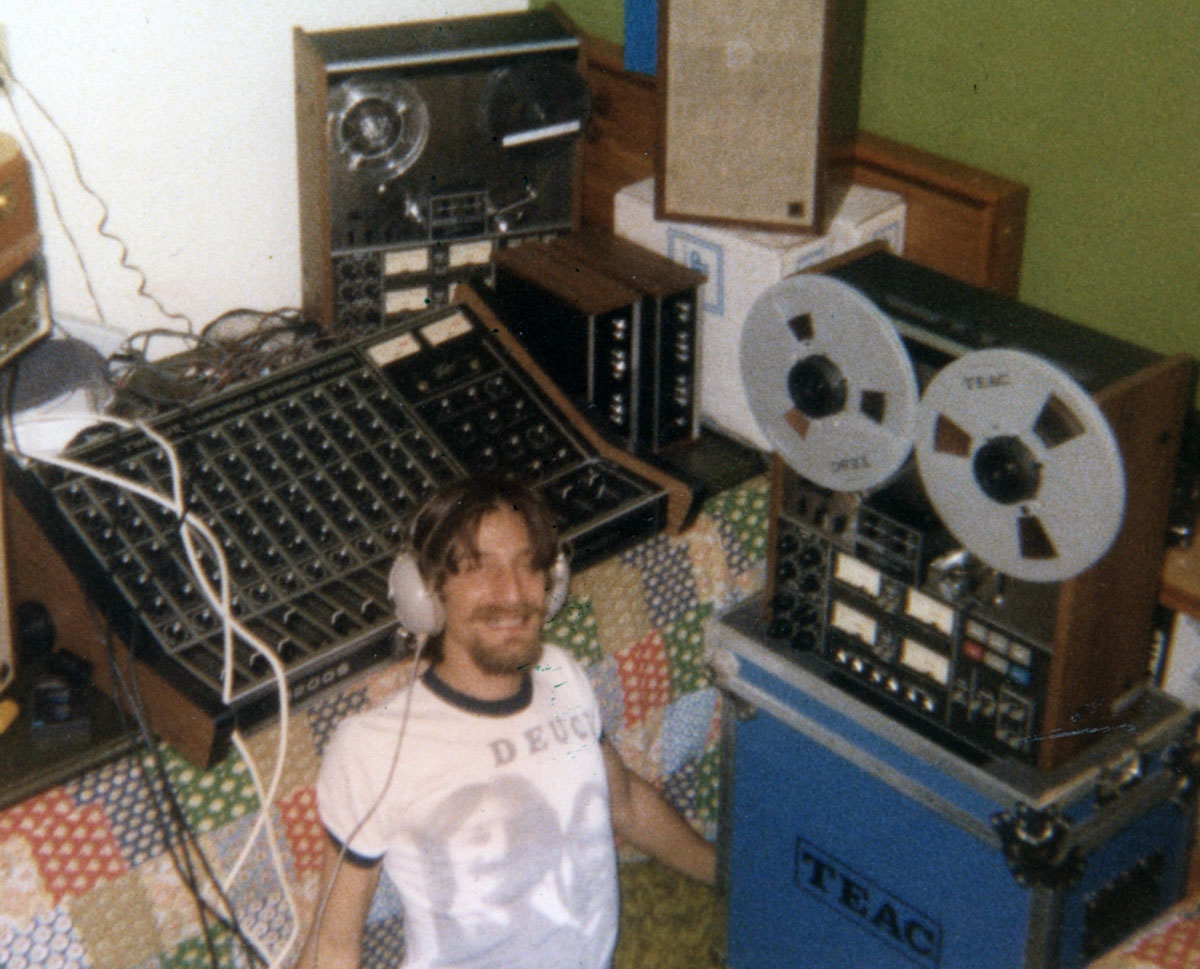 An early incarnation of our project studio on the road, Franconia, NH 1978
Later we were able to boost our track count further with computer-driven MIDI synthesizers. It was all a wonderful learning experience, dealing with what is now ancient audio equipment and software. Our project studio has steadily evolved over the years and keeping up with the latest in audio and music technology is one of my favorite hobbies. As a musician I believe there's no greater luxury than being able to take as much time as you like when recording and mixing and that's why I love our project studio.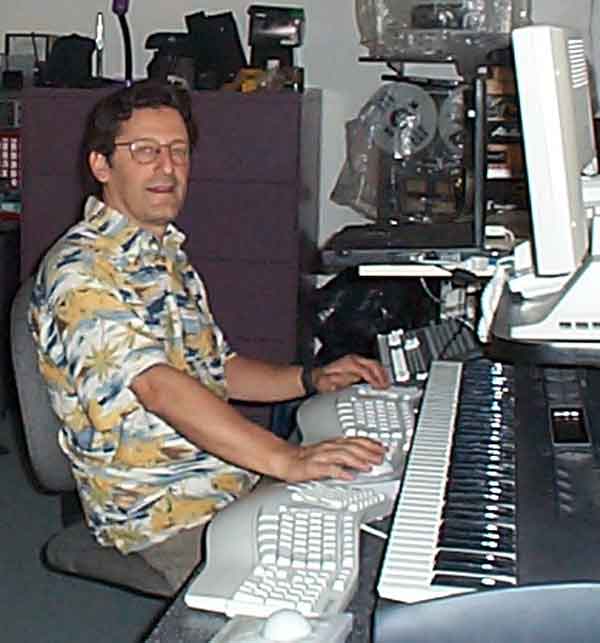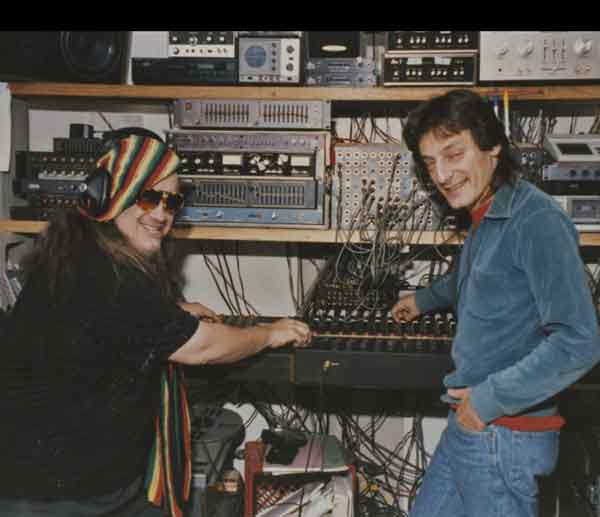 ×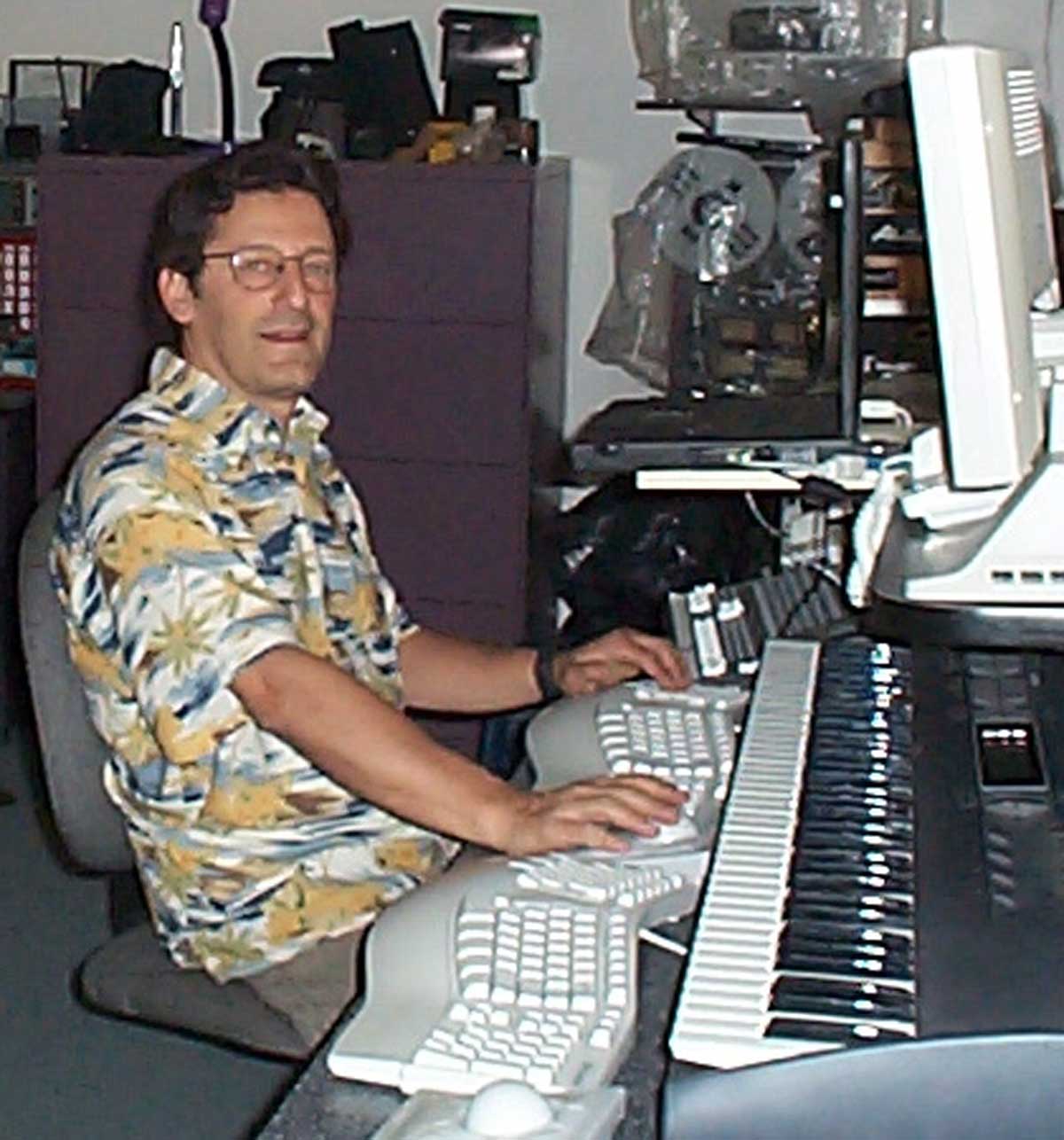 Project Studio, Aptos, CA 2001
×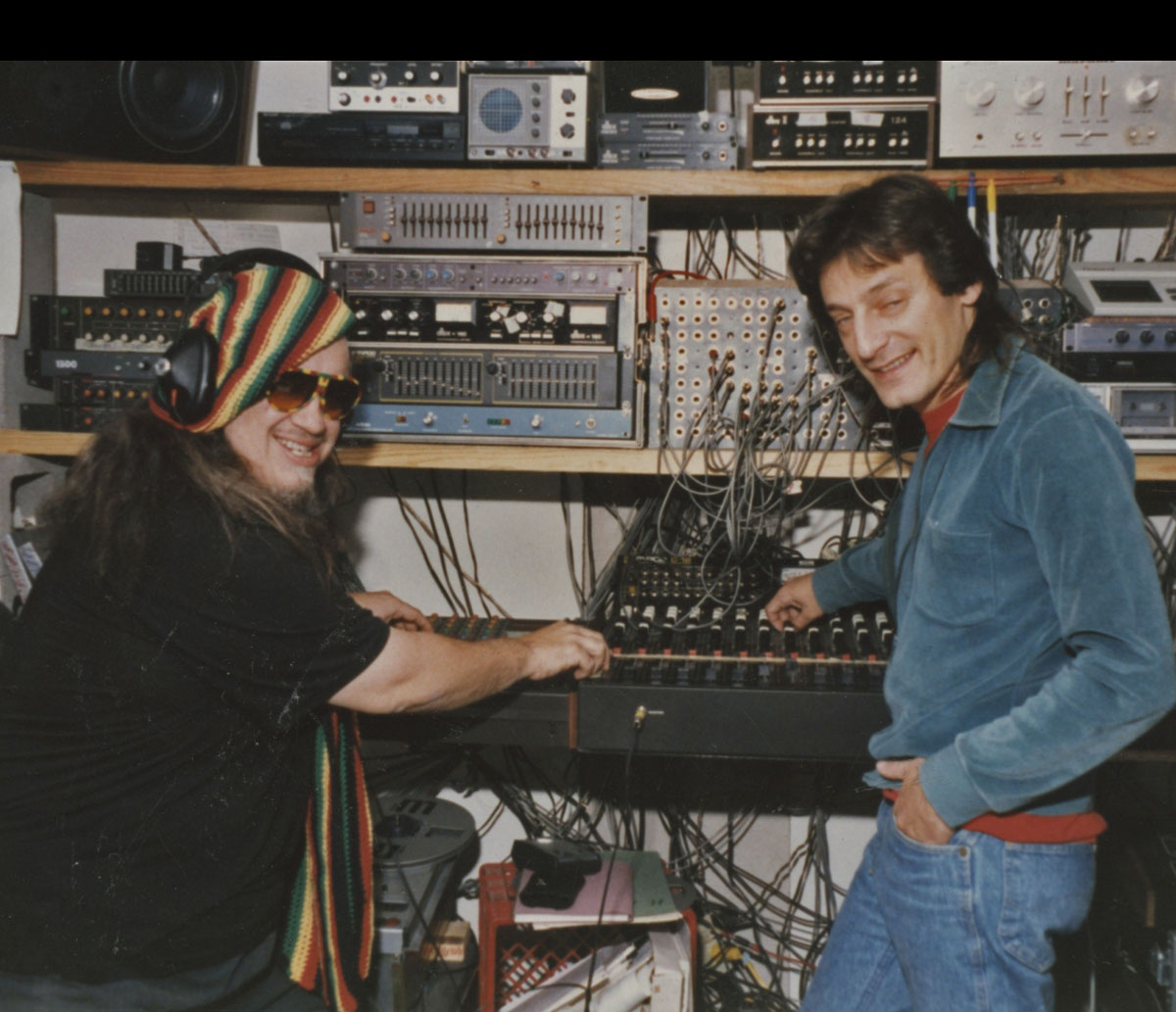 Slim working with the late but great Dan Del Santo in the project studio, Marble Falls, TX, circa 1987
Over the years, in addition to a number of work-for-hire projects, we've recorded three albums of Penny's original songs, several albums for the late Dan Del Santo with Slim co-producing, Slim and Penny's Topsy Turvy and Procrastination CDs, all in our ever-evolving humble studio.
Our first studio computer was the humble Commodore 64 which came with no software other than its operating system and a BASIC interpreter. I had purchased it to go along with the first available MIDI synth, the Sequential Circuits Prophet 600 (this was around 1982) only to find out that the release of the first interface that would allow recording and playback of MIDI data on the Commodore wouldn't be available for several more months. In the meantime I wanted to be sure the computer actually worked, so I started reading the manual, which was essentially a BASIC programming tutorial. To my great surprise, I found that I actually enjoyed programming the thing.

A few years later we had graduated to an IBM PC clone and we began using Roger Powell's DOS-based Texture MIDI sequencer. Texture was a wonderful sequencer and I bonded with it instantly. We began using it on our gigs as well as in the studio and this eventually led to a problem: with MIDI synths rapidly gaining features, replacing the older synths with new ones would mean manually editing about 200 Texture files to do essential drum remapping, transposition, velocity scaling, etc... to match the new gear. Texture (and the other cutting edge sequencers of the time) offered powerful editing features but there was no batch mode to carry out the same edits over hundreds of independent files. But Texture's file format was in the public domain (thank you Roger!) which meant that anyone ambitious enough could create their own software to manipulate the Texture files, which I proceeded to do after coming up to speed on the C programming language. And so began what would eventually become my main gig: writing code.

Starting in the early 1990's I ended up working directly with Roger on the next round of Texture releases for Magnetic Music. Over the next bunch of years I was fortunate to work as a software engineer at a number of companies large and small including WaveFrame (pro audio digital workstations), Borland (software development tools), Roger Linn (Akai MPC), Seer Systems (Reality and SurReal software synths, working under Dave Smith and Stanley Jungleib), Lutris Technologies, Sun Microsystems, and most recently Oracle.

My new career allowed us to get off the road and begin playing non-commercial music. It was very liberating in that sense.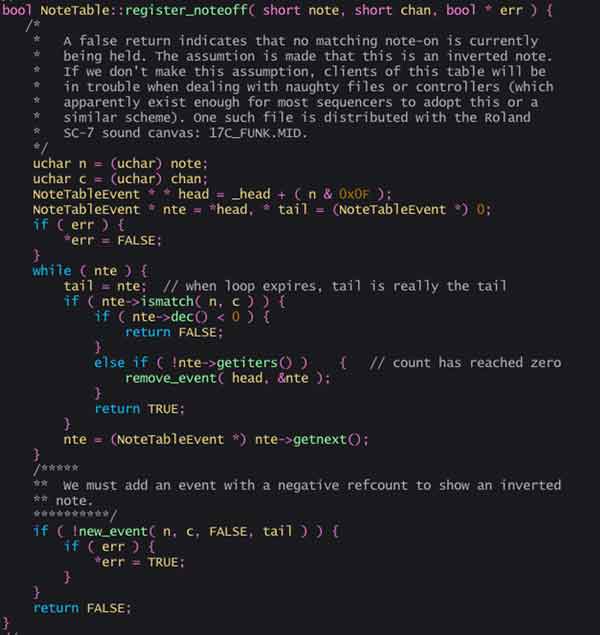 ×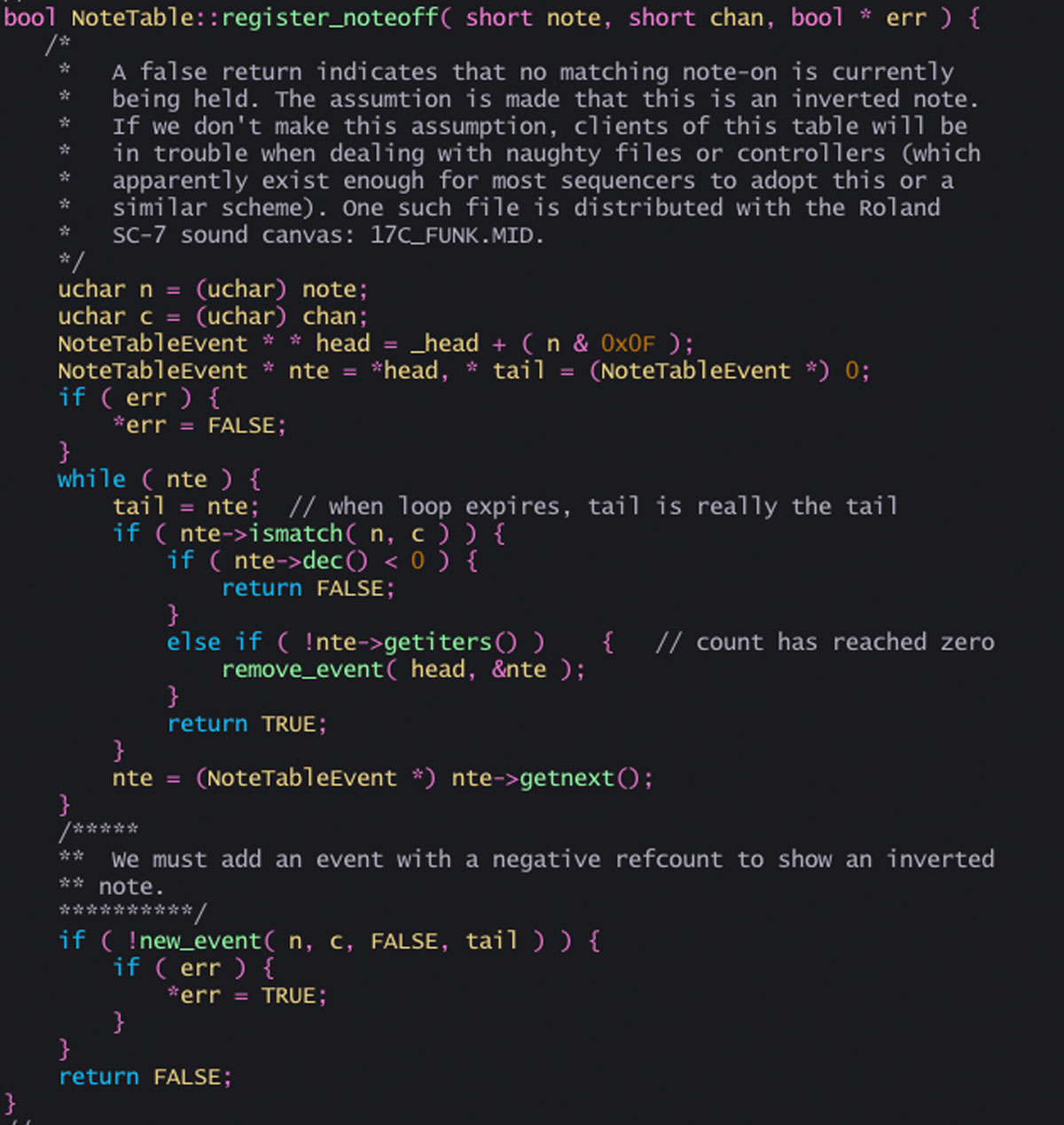 Early C++ code sample from Slim's Magnetic Music MIDI Library
Beginning in 2005 I started connecting with other slide chromatic players after many years of hardly ever encountering anyone who played this instrument. I attended master classes led by classical virtuoso Robert Bonfiglio and jazz great Hendrik Meurkens and became a regular at the annual SPAH (Society for the Preservation and Advancement of the Harmonica) convention. What started as an attempt to further educate myself led to the discovery of many fine players and new friendships.

With the release of our Topsy Turvy CD in 2007, we launched our new live duo format. The repertoire is primarily acoustic jazz featuring the harmonica backed by looping nylon guitar and double bass with occasional vocals. We've been playing out every weekend in the summer months and focusing on recording during the winter. I now have more fun playing music with Penny than anything else in this world.

In 2009, on the eve of the SPAH convention (that year in Sacramento CA) I produced a live-in-the-studio event called The 2009 West Coast Jazz Harmonica Summit at the Digital Media Factory in Santa Cruz featuring 8 slide chromatic players including myself. The audience was terrific and we all had a blast. The following year I released a DVD of the event.

In 2016 we released our second CD Procrastination and plan to release a third some time in 2020.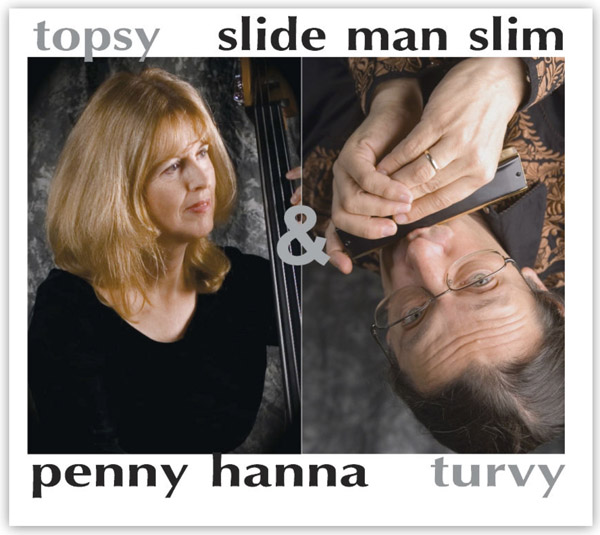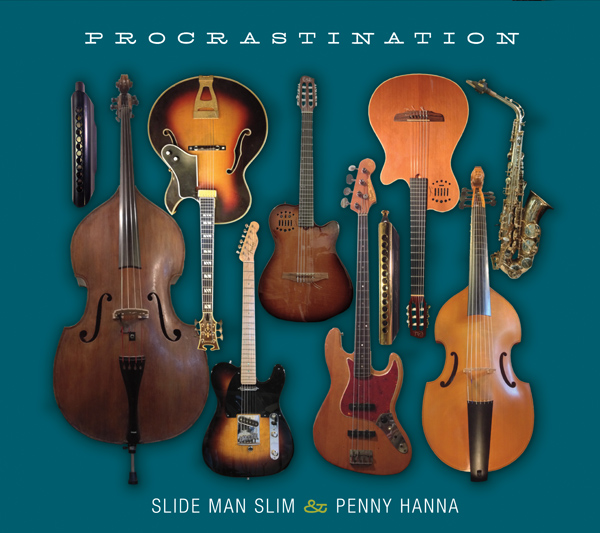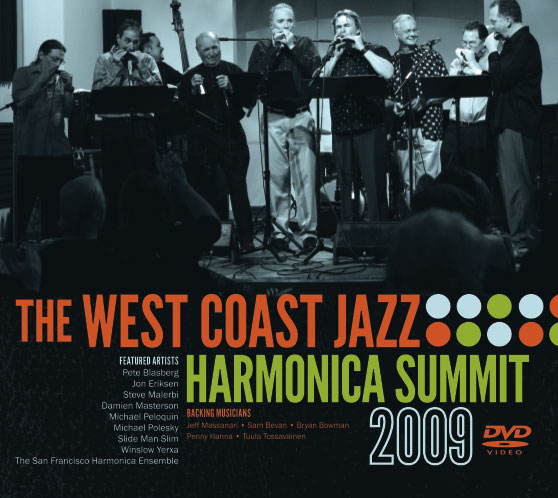 ×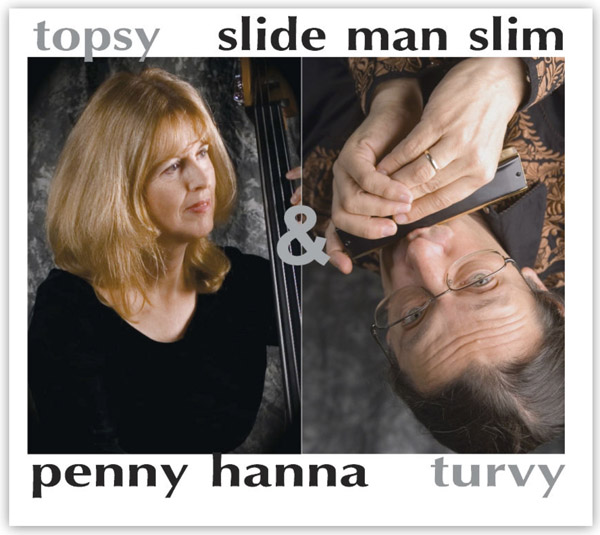 ×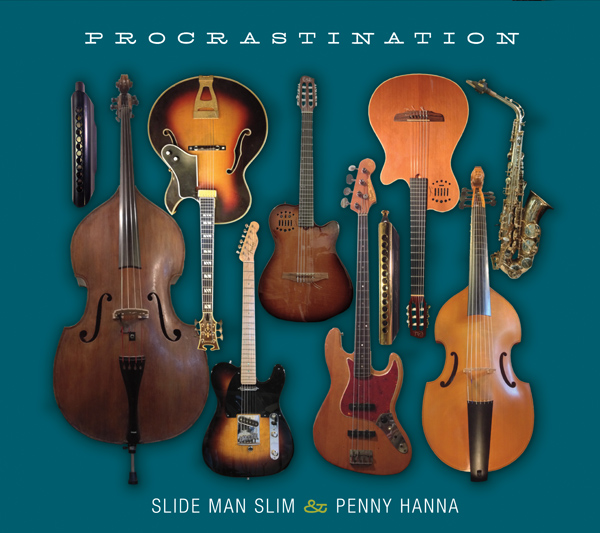 'Procrastination' is our second Slide Man Slim & Penny Hanna album and includes nine original tunes as well as one cover.
×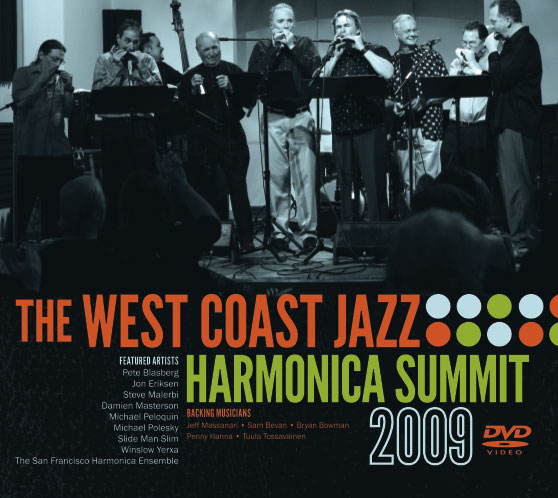 2009 West Coast Jazz Harmonica Summit DVD