Procrastination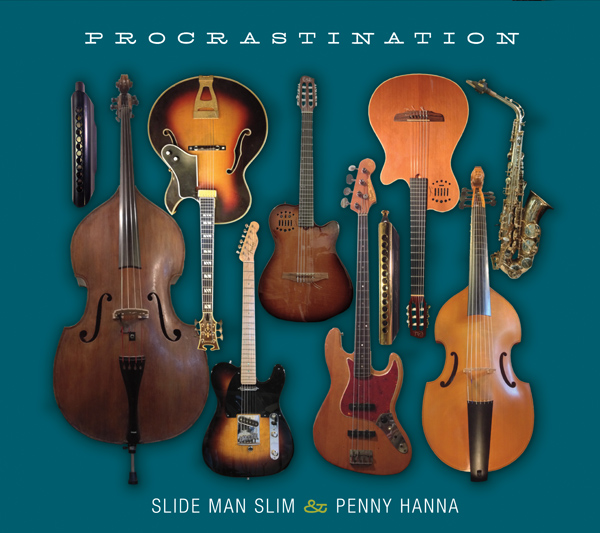 'Procrastination' is our second Slide Man Slim & Penny Hanna album and includes nine original tunes as well as one cover.
This album was beautifully mastered by
Robert Rich
and the CD itself was professionally replicated by Disc Makers and comes in a beautiful four-panel eco-wallet jacket.
To listen here (no charge), just click the play button below. Extended liner notes for each track are displayed as it plays:
Slide Man Slim & Penny Hanna - Procrastination
Bossa Du Jour
What's Goin' On
Procrastination
The Daffodil
Buffalo Wings (for Norton)
Smoke On The Land
Topsy Turvy
When I Am Dreaming
All I Want From You
Shake On It!
"Procrastination" on Streaming Services
You can listen here, or stream the album from any of the popular streaming services including:


For delivery in the USA (only): You can purchase this CD directly from Slim & Penny via PayPal (major credit cards accepted) using the "Buy Now" button below for $10 including shipping. (Direct CD orders for locations outside the US will be refunded as we're not set up for that.)

CDs are shipped via U.S. Postal service, first class mail, usually on the next business day after placing your order.
In praise of Procrastination...
"This album is beautifully played and recorded, a true labour of love. Slim's emotive chromatic harmonica style makes good use of pitch bending to add flavour to a bunch of very catchy tracks!"

- Brendan Power

(harmonica player/inventor/builder of great renown)




"Slim is an invaluable member of the harmonica community and Procrastination is a great opportunity to hear this fixture of the harmonica scene 'walk the walk' on an eclectic set of music that puts both his and partner Penny Hanna's considerable multi-instrumentalist talents on full display. A really fun listen, I highly recommend you pick up a copy!"

- Ross Garren (pianist, harmonicist, composer, and Harmonica World columnist)


"Just listened to Slide Man Slim and Penny's new CD. Wow! But to be honest, since their stuff has already spoiled me, it's what I've come to expect from this pair. Slim and Penny's material is always refreshing, and in a class all its own, and this project is no exception. Just get it!"

- A.J. Fedor (chromatic harmonicist, owner/creator of the SlideMeister chromatic harmonica forum)


"This is not just a new CD. This is a work of art. Every facet of this project was carefully considered. By their own admission the project took eight years to come to fruition. It was worth every minute that Slim and Penny poured into it. The whole CD just oozes with slick arrangements and tasty choices. Penny¹s vocals just seem to roll without any effort, and are a perfect match to Slim¹s instrumental work which mirrors that effortlessness."

- PT Gazell (Master of swing on the half-valved diatonic harmonica, Creator of the Gazell Method)


"Slide Man Slim hits one out of the park. I usually have to wait years for a new distinctive sound to come along. This CD is the answer to my waiting. In a sea of harmonica players, Slim is the life boat. I have never heard a smoother, sweeter, more relaxed player on this 'Khrome Klondike' we all love. And Penny Hanna can really put it out there. Her vocals on The Daffodil were absolutely heart wrenching, as were the lyrics."

- "Smokey" Joe Leone

(musician, harmonica maven, fountain of knowledge to the harmonica community)




"What a beautiful and eclectic recording. The production is stellar with well written songs and Slim's guitar and slide harmonica fit like a glove with Penny's playing and singin."

- Rob Paporozzi

(musician, singer, harmonica master, Original Blues Brothers Band, Blood Sweat & Tears)
"It is all stellar. [...] Slim's chromatic tone is lilting and both his guitar and harmonica chops are impeccable. The cuts 'Buffalo Wings (for Norton)' and 'Procrastination' are standouts for me. [...] These are all good songs any music fan will enjoy… but as a harmonica player, what really makes the record work for me are Slim's tone, taste, phrasing, and chops on the chromatic, an instrument that is very well suited to the collection of songs on this CD."
-
Ron 'Rosco' Selley
(singer/songwriter/harmonica recording artist)
On this album, all arrangements are by Slim and Penny. Slim plays slide chromatic harmonica, guitar, computer-based musical instruments, and sings on "When I Am Dreaming". Penny plays bass, viola da gamba, alto saxophone, and does all the other vocal work. On "What's Goin' On, we have guest appearances by Bobby Black on pedal steel and Gary Kehoe on percussion. Slim did the audio engineering and the instrument collage cover art.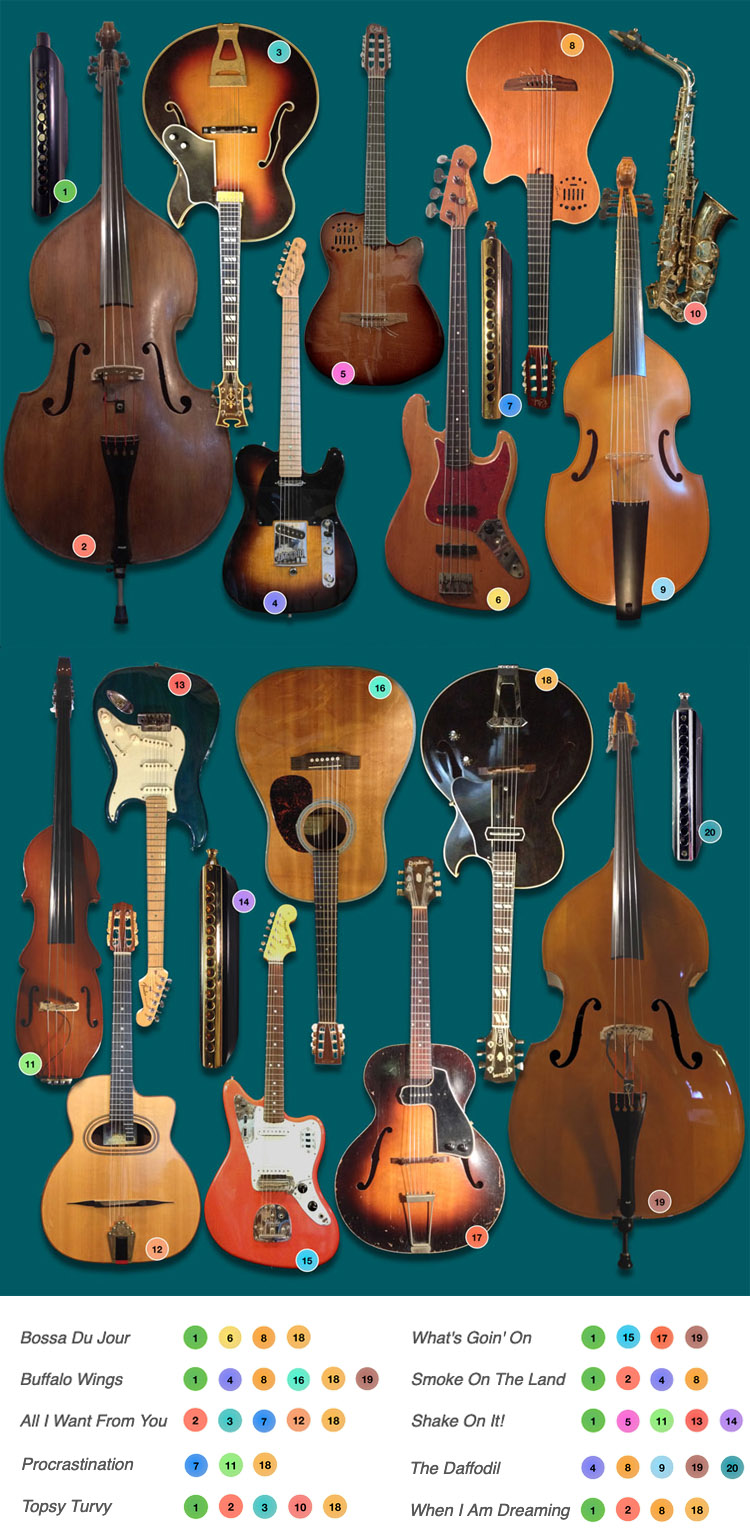 Aside from the brilliant guest appearances by Bobby Black (pedal steel) and Gary Kehoe (percussion) on Marvin Gaye's "What's Goin' On", the instruments, whose images grace the cover of this CD (notwithstanding those invisible ones that live inside our trusty studio computer), were played by the two of us.
Videos related to this album
This is a slightly different and earlier version of Buffalo Wings from the album:
"Procrastination", taped live at the 2009 West Coast Jazz Harmonica Summit: